Cooking With Herbs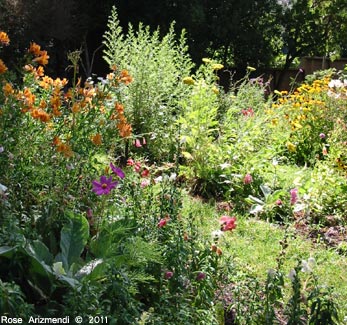 Cooking with herbs is such a great joy and with a minimum of effort and time, you can create some of the most healthful and delicious recipes. Herbs are the heart and soul of great cuisine. There is no right or wrong way to cook with herbs. The basic rule is to season to taste. Be imaginative, creative and experiment with new ways to use herbs. Expand your culinary horizons; do not be afraid to use herbs in unorthodox and innovative ways. Add fresh herbs to mayonnaise, yogurt, créme cheese, butter or sour cream. Float a sprig of mint in your iced tea. Be creative and have fun. The list below is only a small sampling of different herbs and their uses.
Basil
Basil enhances the flavor of all-Italian cooking; spaghetti, pizza, lasagna, soups, vegetables and tomato dishes. Chopping five to ten cloves of garlic in a blender can make a really great pesto sauce. Add 1/2 cup pine nuts and add four cups of tightly packed fresh basil leaves. Pour 1 cup of extra virgin olive oil and 1 cup of freshly grated Parmesan cheese. Blend until smooth.
Chives
Chives are great when you want a sweeter, milder tasting onion flavor. The leaves may be used in salads, soups, and sauces. They make a tasty garnish on the sour cream topping for baked potatoes. We also use chives in our mashed potatoes. They are great in egg dishes.
Cilantro
Cilantro is a main ingredient in many Mexican and Oriental dishes. We use cilantro as a garnish for salads and tacos. Coriander seeds are good in curries, chili sauce, stuffing's, and baked apples.
Dill
Sprinkle chopped dill leaves on salads, cooked vegetables, fish soups and sauces. We add dill to our egg salad recipe and our tuna fish sandwiches. A little dill is great in sour cream or cream cheese. Try some dill seeds added to your favorite apple pie recipe. Dill is also great in salad dressings and homemade bread.
Lemon Balm
We use lemon balm in teas, fruit salads, and our green salads. We also add this wonderful herb to jams, fruit drinks and lemonade. We love this stuff and just cannot get enough.
Lemon Grass
Lemon grass leaves are used in stir-fry dishes and seafood dishes. It can also be used in soups, curries, and sauces. It has a wonderful scent. For some odd reason, our little dog simply loves to chew on our lemon grass plant.
Lovage
Lovage is a great ingredient in soups, stews and sauces. It has a wonderful celery-like flavor. We use Lovage in our pea and lentil soups. Try adding the chopped leaves in your favorite potato salad.
Marjoram
Marjoram is actually oregano and it has a sweet and spicy flavor. The leaves can be used to season salads, cooked vegetables, meats, stuffing's, and sauces. It is also used to flavor vinegar. We use it to flavor our spaghetti sauce and our Sunday omelets. My husband likes it in our breakfast potato dish. We cut up potatoes into small cubes, and then we sauté these along with onions, and garlic. We then add green peppers and mushrooms when the potatoes are almost done. Take two eggs well beaten, pour this over the potato mixture, and cook until done. Do not forget the marjoram, Yummy.
Mints
Mint stirs memories of summer. There are so many different varieties of mints to choose from. We use lots of peppermint for teas. We purchased a chocolate peppermint from a fair a few years ago and have found this mint to be especially nice in making a nice hot tea for those wintry days. The fragrance of this particular mint is heavenly. Spearmint makes a great mouthwash, a room deodorizer, and repels ants. Spearmint is wonderful in juleps, jellies and sauces. It really gives some zip to fruit dishes and salad dressings. Try some of the other mints. We like apple mint sprinkled over ice cream. Orange mint can be used in making iced tea and cooking. Have some fun and experiment with some of the more exotic varieties.
Oregano
Oregano will add zest to a dish. Greek oregano has a stronger flavor than common oregano. Its hot and spicy flavor can be used sprinkled over pizza or any sauce that needs a little extra flavor. Mexican oregano is great for flavoring fish, pork and hominy. This is not true botanical oregano, although it tastes like it. Italian oregano is one of the most common herbs used for flavoring spaghetti sauces.
Parsley
Parsley is commonly used as a garnish. It really brings out the flavor of other herbs and seasonings in soups, sauces and stews. You may add it to almost anything that is not sweet. Try it in eggs, fish, poultry, salads and dressings.
Rosemary
We use this herb with potatoes, chicken, soups and vinegar's. You can put a whole sprig inside a whole fish that you are cooking. Be sure you remove it before serving the fish. We have also placed fresh rosemary sprigs inside a whole chicken and then baked it.
Sage
Sage is wonderful in stuffing's, meat casseroles, roasted fowl and sausages. For a unique flavor, add some to apple and organic chicken sausages. Pineapple sage is good in iced tea and fruit dishes. We use purple sage placed between the skin and the meat of a whole turkey before roasting. This gives the skin and meat a wonderful sage flavor and provides a stunning decoration if the leaves are placed in swirling patterns.
Summer Savory
This delightful herb is used in all hearty dishes: pea soup, stews, and casseroles. Winter savory is also excellent, but it has a stronger and sharper taste.
Society Garlic
Society Garlic is not real garlic because it has no bulbs. We use the leaves in cooking. You may use the leaves in salads, soups, and herb butters and egg dishes. My husband prefers this plant because of its mild flavor. It is great in omelets.
French Sorrel
French Sorrel has a tart lemony taste. Use this herb in salads and soups. You may use this herb in any dish you wish to give an extra zest. We add French Sorrel to our steamed spinach to add a little zip.
Tarragon
French tarragon is wonderful in salad dressings, fish dishes, and herb spreads. You only need a little of this herb; otherwise, it can be overpowering. Winter tarragon can be used in any recipes that call for French Tarragon.
Thyme
Use thyme to enhance soups, gravies, roasts, and vinegar. Caraway Thyme is delicious in homemade biscuits or try it in your favorite meatloaf recipe. Lemon Thyme is great in tea blends or homemade soap. We use this herb in one of our favorite tea blends. Take 1 part Lemon balm, Lemon Thyme, Hawthorn leaf, and oatstraw. Then add to this mixture 1/2 part St. Johns Wort, Linden, 1/4 part Blue Malva flowers, and Lavender. Add Stevia to taste. Blend and use 1 teaspoon per cup of hot water.