Herbal Preparations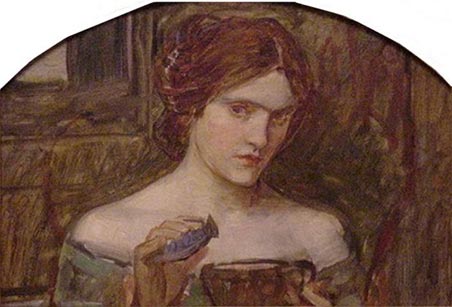 Decoctions
One of the best methods for extracting the more tenacious plant material, such as roots, bark and woody stems is by making a decoction. To make a decoction add one ounce of root/bark to one pint of cold spring water. Bring this mixture to a boil… then simmer for 15 – 30 minutes, depending on strength of decoction desired. Always keep the pot tightly covered. Store any unused portion in refrigerator. Use only glass, ceramic or enameled vessels for your herbal preparations.
Infusion
To make an infusion pour boiling water over the herbs and allow the herbs to steep 15 to 30 minutes, depending on the strength needed. Remember to keep the container tightly covered during the infusion process.
Solar Infusion
I place my herbal mixture in a large glass jar with a lid. I add cool spring water over this and place in direct
sunlight for several hours. When the infusion has reached desired strength, strain the herbal material from the liquid and store the infusion in the refrigerator.
Lunar Infusion
Follow the above directions, only place your jar of water and herbs under the full moon's rays overnight. Fresh flowers are quite lovely in lunar infusions. Do not use poisonous flowers! Avoid sprayed flowers. There are a lot of good reference books on edible flowers. Check them out before experimenting. Safe, edible flowers; Calendula petals, Chrysanthemum petals, Dandelion petals, Fuchsia, Hollyhock, Honeysuckle, Johnny-jump-up, Nasturtium, Pansy, Rose petals, Snapdragon and Violets. These are a few of the edible flowers that I use in infusions, salads and other herbal formulations.
Herbal Tinctures
I personally use the old folk method. To make a tincture, fill a clean dry jar one-half way with your herbal mixture, cover completely with vodka, brandy or grain alcohol, adding a couple more inches to allow for expansion as the dry herbs absorb the liquid. Steep in a warm place for three to eight weeks. Shake daily, strain when done and store in a dark colored bottle, label with content and date of preparation. I suggest keeping accurate files on all preparations, there is nothing worse than not being able to recreate a prize tincture. Over the some odd forty years of making tinctures, I have lost a few great recipes, simply because I was in a hurry and didn't bother to write them down.
Syrup
Medicinal syrups have been traditionally used for treating coughs, sore throats and digestive problems. Syrups are easy and fun to make. Because of the high sugar content in most syrups they will last for several weeks, if refrigerated. I've had a few of my syrups last for months and some of  my students have reported the same results.
To make an herbal syrup, add about two ounces of herb to one quart of water. Bring to a gentle boil, then simmer until liquid is reduced to one pint. Strain, and while the liquid is still warm, add 1/2 -1 cup of honey (or brown / white sugar or maple syrup.) You may also add six to eight tablespoons of plain or fruit brandy to the your pint of syrup. Brandy relaxes the throat muscles and helps to calm coughing spasms. Bottle for use and store in refrigerator.
Liniments
Liniments are used for soothing strained muscles and ligaments. Liniments are for external use, and should be labeled accordingly. One of the most popular liniment recipes comes from the famous herbalist, Jethro Kloss. I use this for rubbing on tired, strained muscles after a busy day in the garden. I've also noticed that it keeps fleas and bugs off my legs. Combine one ounce of each of the following; golden seal powder, myrrh powder and echinacea, plus 1/4 ounce cayenne powder. Place these dried herbs in a bottle and add one pint of rubbing alcohol. Shake this bottle daily for three to ten days.  Strain and store in a bottle.
Salves / Ointments
A salve/ointment, is a preparation that when applied to the skin will remain in place because of its thick
consistency. A salve can be made by first heating one cup of infused oil and  about one-fourth cup of grated beeswax. Stirring gently with a wooden spoon until all of the beeswax is completely melted. Remove from heat and let this mixture cool until you see a ridge forming around the edge of  your ceramic pot. Add a couple drops of essential oils of your choice, blending well. Immediately pour this mixture into small containers and store in a cool dark place. If you store your salves/ointments properly they will last a very long time. I have a tea tree mixture in my herbal closet that is over two years old.  When they lose their color and smell rancid discard them.
Compresses
A compress is applied directly to the skin to enhance the healing process. To make a compress, use a clean soft cloth made of cotton, linen or gauze. Soak this cloth in a hot infusion or decoction. Place this as hot as is comfortable, without burning upon the affected area. Change the compress as soon as it cools. For a cold compress use  a cold water infusion or cold water with a couple of drops of a soothing essential oil swished around in the water. My favorite essential oils to use are lavender, Clary sage, Chamomile and Jasmine. Remember only one to two drops of essential oil to one cup of water. Make sure you mix the oil and water well. When I've had a hectic day I pour some spring water into a lovely hand painted cup, add a couple of drops of  Clary Sage then dip my favorite fine linen handkerchief into the mixture. I wring out the excess water and place this over my forehead. It's wonderful. I also keep a couple bottles of rose and orange water in my refrigerator, and I sometimes use the waters instead of infusions or decoctions. You can usually find these waters at well stocked Asian stores.
Tisanes / Teas
Place the herbs in a container with a tight fitting lid and pour boiling water over them. Replace the lid on the
container. Allow the tea to steep for five to twenty minutes. Steeping time will depend on herbs/flowers used. Sun tea can be made by placing your herbs in a sun tea jar and pouring cold spring water over the herbs. Place this jar in direct sunlight and let it infuse for several hours. To prepare lunar tea,  place the herbs in an open glass bowl. Cover the herbs with fresh water and place directly in the moonlight. I sometimes cover the bowl with a glass lid to keep the neighborhood  squirrel out. Allow your tea to infuse overnight and refrigerate first thing in the morning.

Infused Herbal Oils
Infused oils are simply wonderful, I use them in making my cosmetic creams, ointments, massage oils, salves, dream balms, shampoos, hand lotions etc. I use either dry or fresh herbs. I find the lighter oils such as almond, apricot or grapeseed oils are the best. If you choose to use fresh herbs, make sure they are completely free of moisture. To make infused oils I simply add two ounces of herbal mixture to two cups of oil in a large glass jar. Cover tightly. I place these jars in a warm sunny spot on my windowsill. Let the mixture infuse for two weeks, strain, adding a fresh batch of herbs to the oil, and infuse for an additional two weeks. At the end of the two weeks, strain the herbs into a new bottle, and store it in a cool dark area. When I'm in a hurry I use my crock-pot. Place the herbs and oil in a crock-pot turn to the lowest setting. Check for overheating and allow this mixture to infuse from two to four hours. Strain the mixture and pour into clean dry bottles. Store your infused oils in a cool, dark place. The left over oil can be pressed from the herbal residue and stored in a separate container, this oil is usable, but of a poorer quality. My favorite infused oil is made by using equal parts of Calendula flowers, Roses, Lavender, Chamomile flowers and Comfrey. Comfrey used as a cosmetic herb,  is reported to regenerate aging skin. To the finished infused oil, I also add a few drops of Blue Chamomile essential oil.