Growing Herbs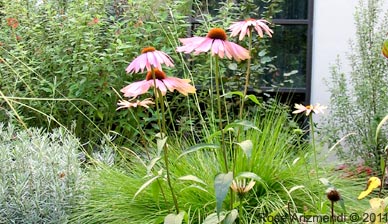 Growing herbs is fun and easy, their ability to adapt to many growing conditions makes it possible to grow them in garden beds, flower pots, and on windowsills. They thrive with a minimum of care. Here are some basic requirements.
Light
Herbs require bright light. This does not mean the same as a hot afternoon sun. The optimal lighting conditions will vary with the growing conditions. A basic rule of thumb is to avoid extremes and choose a moderate approach, like partial sun, or morning sun followed by light afternoon shade. For colorful herbs or variegated foliage, full sun is recommended. Also the amount of sunlight needed depends on whether the herb is planted in the ground or in a container. Herbs as a rule, will not thrive in a container exposed to the hot summer all day.
Water
The basic rule is not to over-water by watering too frequently. Always wait until the soil feels dry to the touch before watering. Same rule applies to indoor herbs. Make sure you have good drainage.
Soil
The soil you decide to plant your herbs in must be loose for good drainage and aeration. If your soil needs conditioning use humus. Humus is decayed or decaying organic matter, the best humus is from homemade compost. You may also substitute matured rabbit, and horse manure. Add some soil additives like sawdust or shredded bark, which are valuable as soil conditioners. If these are not available, use a good potting soil.
Feeding
I give my herbs a good application of  compost or liquid fertilizer. The compost I apply twice a year, if I use liquid fertilizer, I apply this at least once a month. Do not push your herbs too hard with fertilizer or all you will get are big beautiful plants with a lower content of essential oils which give them their flavor.
Insect Control
Insects tend to not be much of a problem as long as you control them as you maintain your garden. Aphids are the most common problem, to help control aphids clip your herbs regularly to get a high turnover of foliage. Aphids don't like old, tough leaves, they prefer new leaves and buds. Wash these trimmings in a bowl of water, the aphids will rise to the surface of the water, flush them down the drain. Either use the herbs fresh or dry them, and store for future use. If the whole plant is infested, simply use your garden hose and wash them off. If you have a white fly infestation, purchase a bright yellow poster board , cut up into index size panels, and smear these panels with Vaseline. The flies are attracted to the color, and will land on the Vaseline and get trapped in the sticky substance. As a last resort for major infestations, you might want to try "organic sprays" like Nicotine Sulfate or Pyrethrins. Check with your nearest Organic Nursery. The best natural herbal insect repellents are; Bay Laurel, Garlic, Lavender, Mints, Pennyroyal, Rue, Tansy and wormwood. I love lavender and have several in my yard, along with different varieties of mint. If you decide on growing mint, you can control its invasive growing habit by carefully removing its runners on a regular basis.