I lived in Hawaii for several years and visited the Big Island volcano sites often and it was an amazing experience to witness the raw primordial power of the Mauna Loa volcano.
Legend has it that the volcanoes Mauna Loa and Mauna Kea connect Hawaii to the center of the earth, and many consider Hawaii to be the point of creation on earth, where new earth is being made each day, which makes the living breathing Pele goddess the mother of the Earth."
During certain times of the year sacred chants, hula and prayer are given as a sacred offering of mana to the sun. For without the sun there is no life …
Sunrise Ceremony at Haleakala Volcano … Maui
Get ready to spring forward one hour this weekend. Yes, it's that time again. Remember to set your clocks one hour ahead on Sunday.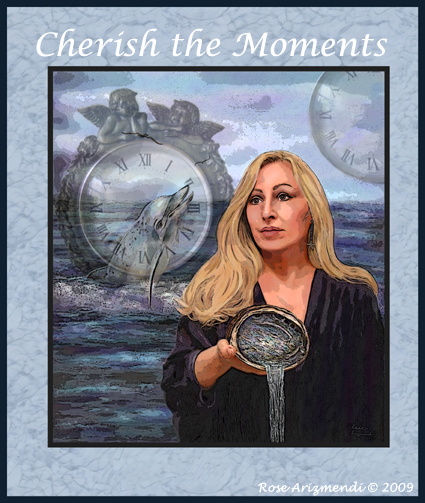 This excerpt from "The Diary of Samuel Marchbanks in 1947: written by Robertson Davies, pretty much sums up my feelings about the daylight savings time issue.
"I don't really care how time is reckoned so long as there is some agreement about it, but I object to being told that I am saving daylight when my reason tells me that I am doing nothing of the kind. I even object to the implication that I am wasting something valuable if I stay in bed after the sun has risen. As an admirer of moonlight I resent the bossy insistence of those who want to reduce my time for enjoying it. At the back of the Daylight Saving scheme I detect the bony, blue-fingered hand of Puritanism, eager to push people into bed earlier, and get them up earlier, to make them healthy, wealthy and wise in spite of themselves."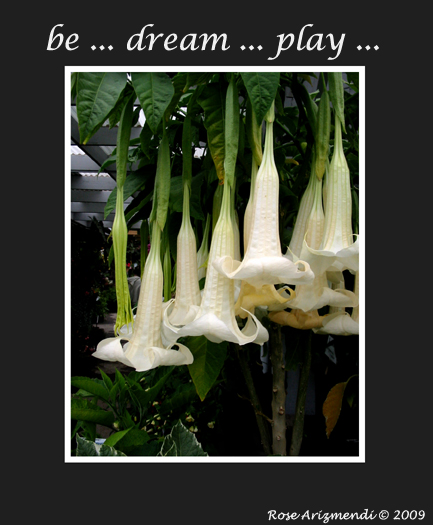 Why is our daily personal spiritual practice important?
From my own perspective a daily personal practice keeps us grounded in our work, less stressed out, and more connected with the Divine. Yet, life happens and there are those days when even the best of intentions go awry.
Friends have said that "not practicing seems to make a critical difference in their lives, they begin to notice feeling out of sorts, drained, disjointed, stressed out, a disconnect, edgy, and that something is lacking."
Due to our very busy lives, it may seem difficult to cultivate a daily practice, yet the very act of lighting a candle, opening and listening for guidance can have a profound effect on the rest of your day. These simple acts can open doors that once seemed closed.
"Whatever I am offered in devotion with a pure heart – a leaf, a flower, fruit, or water – I accept with joy." – Bhagavad Gita
Everyday Goddessing  is about sharing magical techniques and sacred wisdom with other beautiful Goddess women. I believe that within every woman there is a goddess, a wise woman, beautiful, creative, powerful, with a deep soul, and that everything we need and are looking for is already inside  each of us. – Rose Arizmendi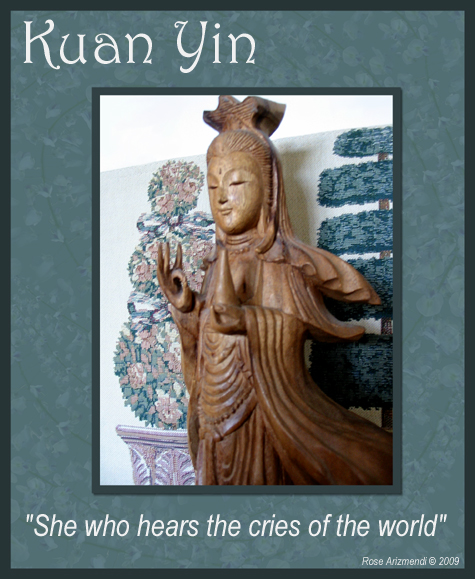 The  Collage above was created using Painter IX and Photoshop.The photograph is of one of my favorite Kuan Yin statues,  I decided to make it the focal point of my digital collage.
"Many say that Kuan Yin, as the goddess of compassion, evokes the softer side of human nature–the innate softness and unconditional love that counterbalances the drive for competition and dominance." – Colleen O'Connor.
Today I found this wonderful Living Guide tucked away in my file cabinet and wanted to share it with you.
A Living Guide

Complement three people every day.
Watch a sunrise at least once a year.
Be the first to say, "Hello."
Live beneath your means.
Treat everyone like you want to be treated.
Never give up on anybody. Miracles happen.
Forget the Joneses.
Never deprive someone of hope. It may be all he has.
Pray not for things, but for wisdom and courage.
Be tough-minded but tenderhearted.
Be kinder than necessary.
Don't forget, a person's greatest emotional need is to feel appreciated.
Keep your promises.
Learn to show cheerfulness, even when you don't feel like it.
Remember that overnight success usually takes about fifteen years.
Leave everything better than you found it.
Remember that winners do what losers don't want to do.
When you arrive at your job in the morning, let the first thing you say brighten everyone's day.
Don't rain on other people's parades.
Never waste an opportunity to tell someone you love him or her.
– Author Unknown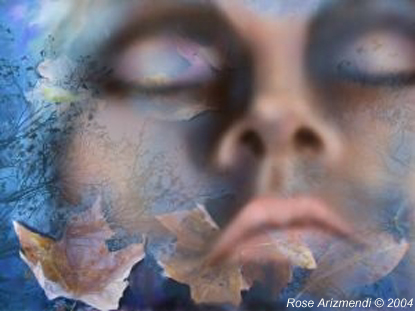 During this time of the year our dreams become more vivid and sometimes easier to recall. Maybe they are inspired by the change of season that in turn inspires us to withdraw into deep contemplation and reflection, or something not yet fully formed in our consciousness.
Either way we know that deep magic is at work within our dream time. Our dream images shift, merge, draw apart, and then dance together again. The themes of birth, growth, death and rebirth re-playing themselves over and over again.
Dream work is as old as humankind and often a source of untapped wisdom and information. By recording our dreams, sharing our dreams, and creating our own dream dictionary, we enter a rich world of self discovery.
Based on a dream a few years ago, where an old woman was showing me a deck of Dream cards she had painted, I began creating Dream card images based on my dream imagery. The image above is one of them.
The old woman stressed how important it was for each person to make Dream cards of the images given to them in their dream walk, and that the dream images would open them to the wisdom teachings of their ancestors.
For more information on dreams go here.
"The Iroquois believed dreams were messages from the God within, and by sharing their dreams they came into contact with the sacred power, Orenda." Orenda means "Tribal Soul on the Right Path."
Everyday Goddessing  is about sharing magical techniques and sacred wisdom with other beautiful Goddess women. I believe that within every woman there is a goddess, a wise woman, beautiful, creative, powerful, with a deep soul, and that everything we need and are looking for is already inside  each of us. – Rose Arizmendi