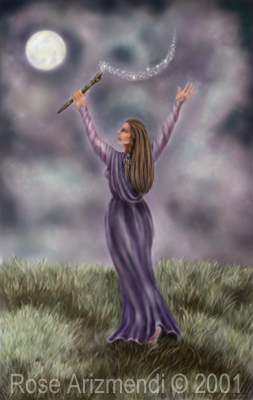 Magic Moon – Digital painting
Tonight the full moon is in Sagittarius and I hope the clouds clear away enough to catch a glimpse of the moon.
It' been raining all day and I have been catching up on some work which needed to be done asap.  I did find some spare time to whip out a small digital painting and it has been posted on my art blog.
Now it's time to put on my Domestic Goddess hat and make dinner!
quotes for the day;
"If you can see your path laid out
in front of you step by step, you know
it's not your path. Your own path you
make with every step you take. That's
why it's your path." – Joseph Campbell
" When you see the earth from the moon, you don't see any divisions there of nations or states. This might be the symbol, really, for the new mythology to come. That is the country that we are going to be celebrating. And those are the people that we are one with." – Joseph Campbell
Everyday Goddessing is about sharing magical techniques and sacred wisdom with other beautiful Goddess women. I believe that within every woman there is a goddess, a wise woman, beautiful, creative, powerful, with a deep soul, and that everything we need and are looking for is already inside  each of us. – Rose Arizmendi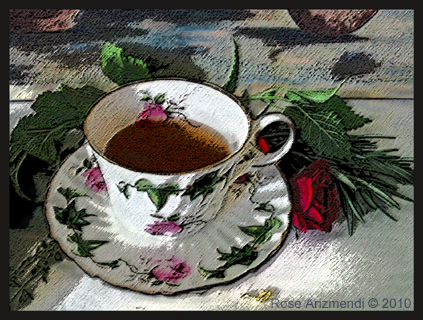 To me, sharing a cup of tea or coffee with friends means warmth, comfort and great conversation.
Yesterday I had coffee with Elvira  and our conversation was mostly about friendship, everyday goddessing and sacred woo-woo. We had such a great time even though the weather was overcast and chilly. Next time,  I have to try the french toast extravaganza that Elvira had. Yummy!
This morning over tea with another friend, our conversation turned to the economy, the environment and the planet's diminishing water supply. We also shared our  family stories, goals and hopes for the near future.
"Let us sit my friend and share a cup of tea
And talk of our dreams and the faraway places we want to see.
Let us dream together and explore all of life's mysteries.
Just the two of us
my dear friend and me." – Rose Arizmendi

Here are some interesting facts;
The average shower uses 25-50 gallons.
5-7 gallons is used to flush the average toilet
The average person uses 168 gallons daily.
The average residence uses 107,000 gallons a year.
The human body is 66% water
The Earth's surface is 80% water
Only 1% of the earth's water is suitable for drinking
"Water is life's mater and matrix, mother and medium. There is no life without water." – Lao Tzu
Everyday Goddessing is about sharing magical techniques and sacred wisdom with other beautiful Goddess women. I believe that within every woman there is a goddess, a wise woman, beautiful, creative, powerful, with a deep soul, and that everything we need and are looking for is already inside  each of us. – Rose Arizmendi
Welcome to my blog at Gaia's Garden.com.
My intention is to use this blog as a kind of extension of my Gaia's Garden website. I hope to create a place where I can share my  thoughts with you regarding some of the main passions in my life and also share my explorations into various subjects.
I am passionate about art, mythology, nature, philosophy, herbalism, alternative healing, conservation, and sustainability.
Mostly, I am filled with gratitude for this amazing journey through life I find myself on.
Thank you for visiting!
Rose.
Today,  I received an email from the beautiful goddess Salina about the global effort being made to help heal the living waters of our planet. Mother Gaia needs all the help she can receive because there is so much going on in the world right now, especially with the unfortunate oil spill in the Gulf and the pollution from Iceland's volcano.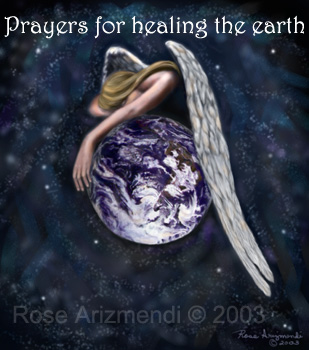 May 18, 2010 Grandmothers will be holding Water Prayers
The Grandmothers' Council is a group of 13 indigenous Grandmothers from all 7 continents and all 4 of the worlds' races. They have been gathering for the past few years to pray for the earth and for the people. They have sent the message below out to the world, asking all of us to join them on May 18th to offer prayers for the HEALING OF THE WATERS OF THE EARTH.
We, the International Council of Thirteen Indigenous Grandmothers
Ask you to join us:
MAY 18, 2010
CONSCIOUS PARTICIPATION IN HEALING OUR PLANETARY WATERS
OUR MOTHER EARTH NEEDS YOUR HELP!
Along with many peoples all around the globe, and many water prayers this spring, we are calling for a
MASSIVE GLOBAL EFFORT
Our main intention for this healing is to return the waters to their original pure crystalline blueprint, and to add to their abundance for the nourishment of ALL living things on the planet.
Pray in your local waterways, at the rivers or lakes or streams. Or pray with a bowl of water in the middle of the cities.
"We are Water Babies.
Do not to forget to say thank you every day for the water you drink,
the water you bathe in.
Without our Mother water we would not survive."
Grandmother Agnes Baker Pilgrim, Takelma Siletz , Oregon
The specific ceremonies being conducted on May 18, 2010:
Grandmothers will be holding Water Prayers in the following places:
African Rain forest , Gabon – Grandmother Bernadette Rebienot
Great Lakes, USA- Grandmother Rita Blumenstein
Mountains of Oaxaca , Huautla de Jimenez – Grandmother Julieta Casimiro
Desert of the American Southwest- Grandmother Mona Polacca
France – Grandmother Flordemayo
Black Hills of North America- Beatrice and Rita Long Visitor Holy Dance
Plains of North America , Montana-Grandmother Margaret Behan
Hood River , Oregon- Agnes Baker Pilgrim
Nepalese Himalayas- Aama Bombo
Brazilian Amazon-Grandmothers Maria Alice Freire and Clara Shinobu Iura
Tibetan Ceremonies in Canada- Tsering Dolma Gyaltong
Mahia, Aotearoa , New Zealand – Ambassador Pauline Tangiora
At the same time, people will be praying at
Nine specific bodies of water around the planet using crystalline energy
· Lake Tahoe , California
· Lake Titicaca , Peru
· Lake MacKay Australia
· Lake Chad, Africa
· Lake Bikkal , Russia
· Lake Kissyk-Kul , Kyrgyzstan
· Lake Geneva , Switzerland
· Lake Superior , Minnesota
· Colorado River Complex (Healing and Purification Ceremonies for this vital USA waterway)
"Water reflects the human soul. If you say, 'thank you' to water, it will be reflected in the form of beautiful crystals overflowing with gratitude in return." Masuru Emoto, The Secret Life of Water
Click Here to Visit The International Counsel Of Thirteen Indigenous Grandmothers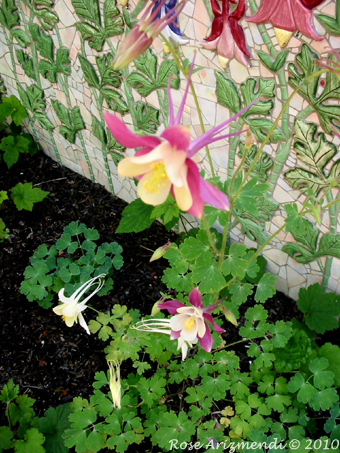 On Mothers Day, I received a beautiful phone message from a dear friend and it was so heartfelt and nurturing it made me cry. It made me realize how different our lives could be if everyone received a message like this on a daily basis or even weekly. … How about a great big phone hug or email hug a day?
In all of us there is a deep human need to be recognized, nurtured and loved for who we are. It doesn't matter how successful, self confident or self aware we are, we all need a little love and nurturing at times. Like the song says,  "All we need is Love!"
So today, I made a few phone calls and sent a couple of emails to some really beautiful, soulful people in my life whom I thought might need a little unconditional love, understanding and positive energy .
My promise to myself is to make every effort to spend more time communicating with those I love and care about, who are important to me, who enrich my life and nurture my goddess within.
P.S. My heart fills up with love and gratitude when I think of all you beautiful everyday goddesses who share your stories, wisdom, laughter, joy, creativity and inspiration with me on a daily basis. I want to say thank you so much for your support and feedback.
Everyday Goddessing is about sharing magical techniques and sacred wisdom with other beautiful Goddess women. I believe that within every woman there is a goddess, a wise woman, beautiful, creative, powerful, with a deep soul, and that everything we need and are looking for is already inside  each of us. – Rose Arizmendi