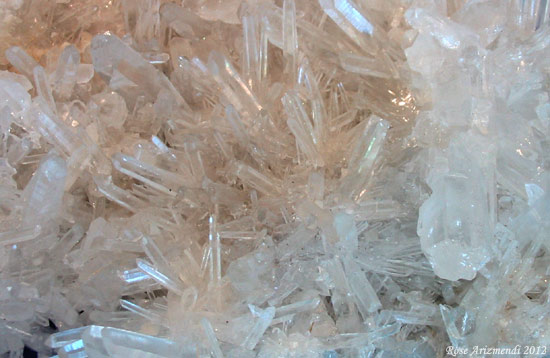 At the most basic level, stone is the fabric of the earth, and
as such is a symbol of the everlasting.
The anthropomorphic view of the world sees stones and rocks
as the bones of Mother Earth.
They are the fundamental structure that supports all other aspects
of physical existence of earlier life~forms.
  ~ Nigel Pennick ~

Talismanic Gemstones
Enchanted Baltic Amber ~ fossilized golden resin from an ancient forest kissed by the sun… Sacred amulet of protection … healing and magic.
Magical Carnelian ~ Wrapped in your fiery cloak of protection…your sacred magic warding off the evil eye. You are the door to the divine flame on the other side.
Charmed Amethyst ~Your watery cool touch…Shades of violet, blue and deep purple….a cloak of colored magic woven by Danu to protect and guide us through rivers of ancient magic.
Talismanic Jewelry for the Goddess within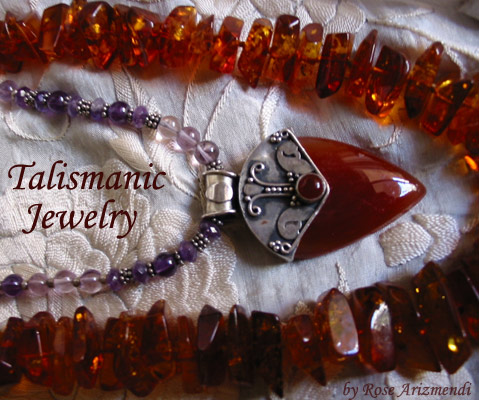 Most of what we now call jewelry had it's origins steeped in magic from ancient times. They were once called amulets, charms and talismans and thought to have magical protective qualities. Stones that were considered to be protective, powerful, healing and sacred, were used as charms for thousands of years by all social classes.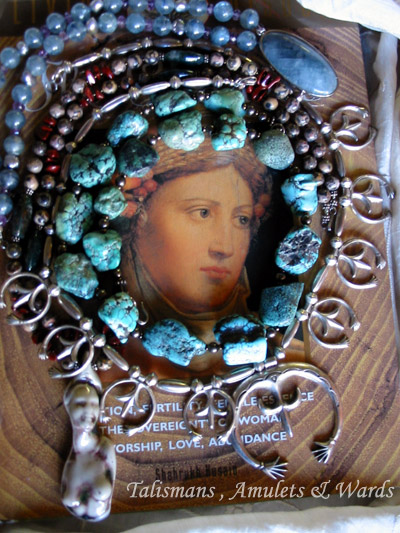 For those of us who create talismanic jewelry, there is often a presence of something beyond our understanding, an awareness, a connection with a deep and primal energy resting just below the surface of the stones and metals we work with.
A beautiful synergy, connectedness happens as we combine gemstones, crystals, sea shells, feathers, bones and other magical, unexpected components together to create one of a kind pieces for ourselves and friends.
I have a few favorite pieces of jewelry that I wear and change out with the seasons and lunar tides. Whether I use them as a form of prayer or protection, they hold stories and special meaning for me, and have become part of my journey. I also create additional pieces for others to enjoy. Visit Rose Arizmendi.com/shop
Among countless stones, one stone becomes saturated with
being because it constitutes a hierophany, or possesses mana,
or again because it commemorates a mythical act.
~ Mircea Eliade ~

"Everyday Goddessing  is about sharing magical techniques and sacred wisdom with other beautiful Goddess women. I believe that within every woman there is a goddess, a wise woman, beautiful, creative, powerful, with a deep soul, and that everything we need and are looking for is already inside  each of us." ~ Rose Arizmendi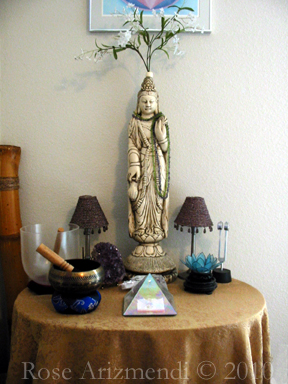 This morning I noticed our Healing Altar needed a little tender loving care so I cleared off the tabletop, smudged the altar, washed the crystals with white sage water, and proceeded to wipe down the Kuan Yin statue with rose water.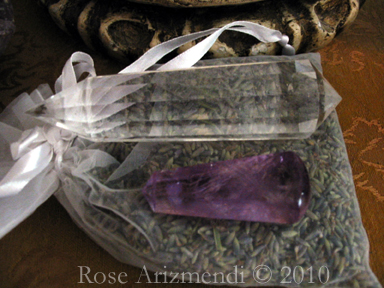 Next, I added  fresh lavender to a pretty bag and placed the vogel crystal and Amethyst crystal on it, along with a small piece of Kyanite which helps clear the crystals after a session. The crystal singing bowl, Tibetan bowl and the painting hanging above the Altar were also cleaned.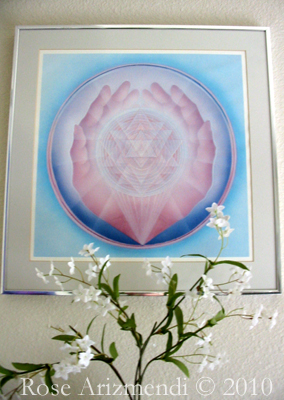 Healing Touch Mandala by Gina Rose Halpern Original Acrylic 13″ x 13″ Copyright 1983.   Click here to see more of her work.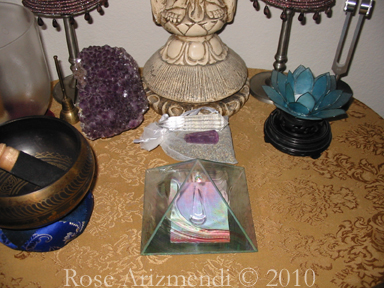 Here is where I do most of my Distant Reiki work for our families, friends and anyone in need. I place Reiki Prayer Packets  in the pyramid and send Reiki twice a day for those who have requested it, and keep the names in the Reiki pyramid or Reiki Box for a period of two weeks to a month.
Giving Reiki to others is what I love to do. For me Reiki is about unconditional love, healing and acceptance on all levels, and a beautiful gift we can share with everyone.
Everyday Goddessing is about sharing magical techniques and sacred wisdom with other beautiful Goddess women. I believe that within every woman there is a goddess, a wise woman, beautiful, creative, powerful, with a deep soul, and that everything we need and are looking for is already inside  each of us. – Rose Arizmendi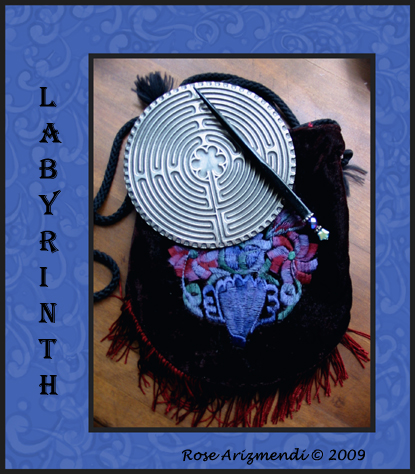 The finger labyrinth is a wonderful way to experience the healing and spiritual benefits of the labyrinth.
The portability and accessibility of these smaller versions of the labyrinth allow us to carry them wherever we go. Regardless of location, weather conditions, health or mobility issues.
I have used mine when traveling, waiting to see my doctor, and during those long stopovers between flights. They are wonderful, easy to carry and ready for use 24 hours a day.
Finger labyrinths have been around for centuries and some of these were said to be carved on rock walls and small stones. They were used to lead one to a deeper understanding of the self and a closer relationship with the divine.
Labyrinths can be used by everyone, regardless of their religious beliefs, traditions or background. They are a universal spiritual tool.
The three stages of the Labyrinth;
Releasing -Letting go of the details of your life. This is the act of releasing thoughts and distractions. A time to open the heart and quiet the mind.
Receiving – When you reach the center, stay there as long as you like. It is a place of meditation and prayer. Receive what is there for you to receive.
Returning – As you leave, following the same path out of the center as you came in, you enter the third stage, which is joining with the Divine, your Higher Power, or the healing forces at work in the world. Each time you walk the labyrinth you become more empowered to find and do the work you feel your soul reaching for.
I received my finger labyrinth as a gift several years ago and use it for relaxation and meditation. It was purchased from The Shop at Grace Cathedral in San Francisco.
I am also very fortunate to have a seven circuit labyrinth within walking distance of my home. I love it!
thought for the day;
" The great need of our time is for people to be connected to spirit; for people to be connected to a core of feeling in themselves that makes their lives vital and full of meaning, that makes life a mystery evermore to be uncovered." – Harold Stone – Sandplay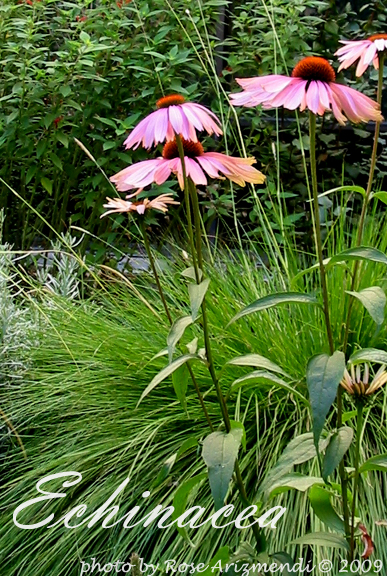 When we practice the art of herbalism, we touch the heart of Gaia, mother earth and learn a unique way of communicating with plants.
I love the magical feeling of enjoying the smell of things growing in the soil, and the rich aroma of plants and flowers wafting throughout the garden.
As an Herbalist, I enjoy making tinctures and one of my favorites is echinacea. We use it to stimulate the immune system during the cold & flu season.
I use the dried roots of E. augustifolia roots when making my tincture.
I fill a quart jar about 1/3  full of dried, chopped echinacea roots. Next, I add enough menstruum (100 proof vodka) to fill the jar completely and seal with a tight fitting lid.
I label it with the date and ingredients and place the jar in a cool, dark place and shake the jar daily for two weeks, and then let it macerate for about a year. I make a batch each year, so that we have a continuous supply of echinacea tincture.
quote for the day;
"Native Americans learned of Echinacea angustifolia by observing elk seeking out the plants and consuming them when sick or wounded, and identified those plants as elk root." – Wikipedia
Read Our Disclaimer
Please consult a licensed medical health care provider for your health care needs.
You should not use herbs in place of your normal medical care or take them with current prescriptions or medicines without first obtaining professional advice by consulting a trained medical practitioner or qualified herbalist. Herbs should not be taken while pregnant or breastfeeding without checking with your medical practitioner first.
This video features the beautiful artwork by visionary artist Mary Ann Butler. She talks about creativity and joy and the importance of weaving these two together for personal and planetary well-being.
I love the "Egyptian Mysteries Unveiled" wearable art piece. Wow!
thought for the day;
"The great teachings unanimously emphasize that all the peace, wisdom, and joy in the universe are already within us; we don't have to gain, develop, or attain them. We're like a child standing in a beautiful park with his eyes shut tight. We don't need to imagine trees, flowers, deer, birds, and sky; we merely need to open our eyes and realize what is already here, who we really are . . . as soon as we quit pretending we're small or unholy." – unknown