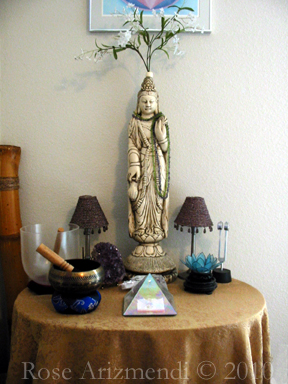 This morning I noticed our Healing Altar needed a little tender loving care so I cleared off the tabletop, smudged the altar, washed the crystals with white sage water, and proceeded to wipe down the Kuan Yin statue with rose water.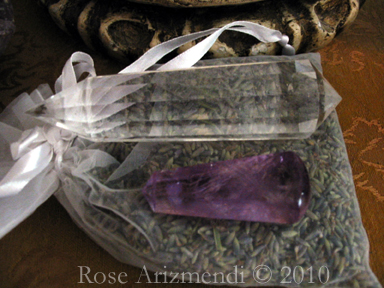 Next, I added  fresh lavender to a pretty bag and placed the vogel crystal and Amethyst crystal on it, along with a small piece of Kyanite which helps clear the crystals after a session. The crystal singing bowl, Tibetan bowl and the painting hanging above the Altar were also cleaned.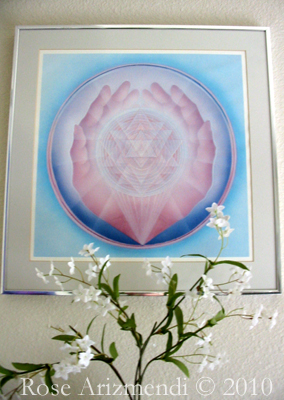 Healing Touch Mandala by Gina Rose Halpern Original Acrylic 13″ x 13″ Copyright 1983.   Click here to see more of her work.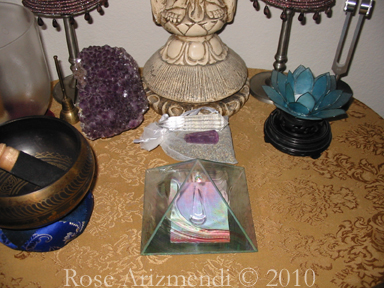 Here is where I do most of my Distant Reiki work for our families, friends and anyone in need. I place Reiki Prayer Packets  in the pyramid and send Reiki twice a day for those who have requested it, and keep the names in the Reiki pyramid or Reiki Box for a period of two weeks to a month.
Giving Reiki to others is what I love to do. For me Reiki is about unconditional love, healing and acceptance on all levels, and a beautiful gift we can share with everyone.
Everyday Goddessing is about sharing magical techniques and sacred wisdom with other beautiful Goddess women. I believe that within every woman there is a goddess, a wise woman, beautiful, creative, powerful, with a deep soul, and that everything we need and are looking for is already inside  each of us. – Rose Arizmendi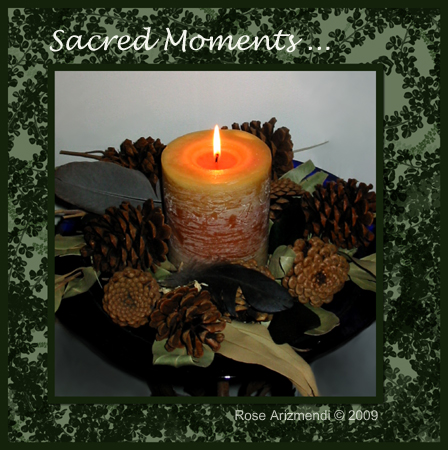 An altar is a sacred space where we go to connect at a deep and personal level with the power which we consider to be our God/Goddess.
It is also a special place where we can express feelings of loss, sadness, joy and happiness . . .  a place to take time out from our everyday tasks to nourish our souls.
Part of what makes an altar sacred is the significance of the items you choose to create it. Altars don't need to be big and ornate; a small altar on your windowsill can be equally effective. An altar is a visible tangible place where you can meditate or commune with the divine.
Even if you don't have time or inclination to meditate you can simply take a moment each day to look at it. When we acknowledge our altars in some small way each day, we infuse it with our personal energy and intention that will continually build on itself and become a healing vibration for you. This energy will begin to radiate from your altar and transform your home into a safe comforting sanctuary.
For me building an altar is a form of meditation. Each altar becomes a metaphor for what I wish to bring into my life at that particular time. In the fall it may represent gratitude for my ancestors or the intention to be more present in my life. During the winter my altar may reflect my intentions to release that which I no longer need in my life.
It can be fun to find objects for your altar when you go for a walk. Take your time and gather the gifts that nature freely offers like  fallen branches, colorful leaves, beautiful pine cones, seed pods, feathers and whatever else catches your fancy.
Remember to leave a small offering for the earth spirits in return for your new found treasures. Offerings can consist of bird seeds, small slices of fruit, bread crumbs etc…
Everyday Goddessing  is about sharing magical techniques and sacred wisdom with other beautiful Goddess women. I believe that within every woman there is a goddess, a wise woman, beautiful, creative, powerful, with a deep soul, and that everything we need and are looking for is already inside  each of us. – Rose Arizmendi