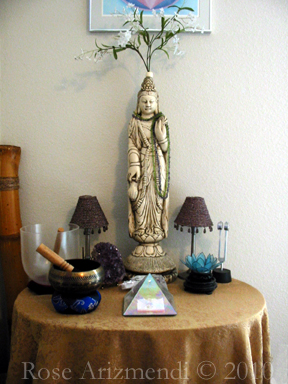 This morning I noticed our Healing Altar needed a little tender loving care so I cleared off the tabletop, smudged the altar, washed the crystals with white sage water, and proceeded to wipe down the Kuan Yin statue with rose water.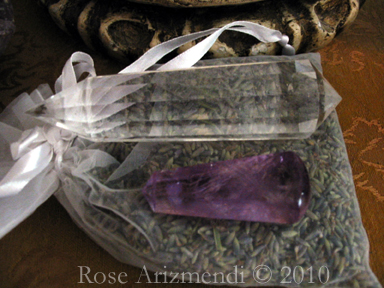 Next, I added  fresh lavender to a pretty bag and placed the vogel crystal and Amethyst crystal on it, along with a small piece of Kyanite which helps clear the crystals after a session. The crystal singing bowl, Tibetan bowl and the painting hanging above the Altar were also cleaned.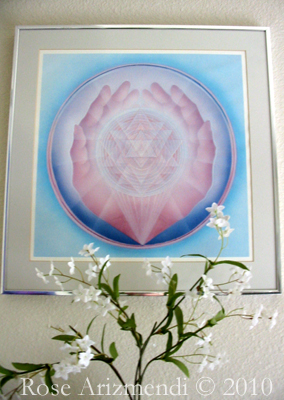 Healing Touch Mandala by Gina Rose Halpern Original Acrylic 13″ x 13″ Copyright 1983.   Click here to see more of her work.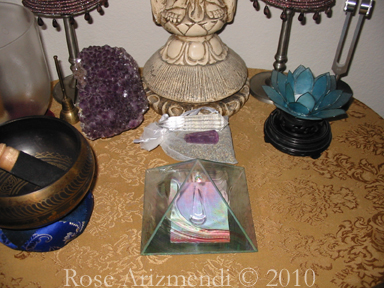 Here is where I do most of my Distant Reiki work for our families, friends and anyone in need. I place Reiki Prayer Packets  in the pyramid and send Reiki twice a day for those who have requested it, and keep the names in the Reiki pyramid or Reiki Box for a period of two weeks to a month.
Giving Reiki to others is what I love to do. For me Reiki is about unconditional love, healing and acceptance on all levels, and a beautiful gift we can share with everyone.
Everyday Goddessing is about sharing magical techniques and sacred wisdom with other beautiful Goddess women. I believe that within every woman there is a goddess, a wise woman, beautiful, creative, powerful, with a deep soul, and that everything we need and are looking for is already inside  each of us. – Rose Arizmendi