Posted by
Rose2
on Aug 28th, 2009 in
Videos
|
0 comments
Here is a wonderful animation about synchronicity and how seemingly unrelated events in our lives might play a very important role after all.The animation film is by Torill Kove and narrated by Liv Ullmann.
Over the next couple of months I will be taking some time off and will not be posting as often. There are some personal family issues that sort of unexpectedly came up over the past couple of weeks that must be dealt with.
However, I will be posting regularly again, starting in October.
Here is a video featuring beautiful inspirational Buddha paintings by artist Juul.
quote for the day;
"Autumn afternoon . . .
Without  a ripple three white clouds
cross the pond."
Patricia Neubaumer
On my walk this morning I noticed the leaves are gradually losing their color, a tattle-tale sign that tells us autumn is here. I had my camera with me so I took a photograph of this tree near our home.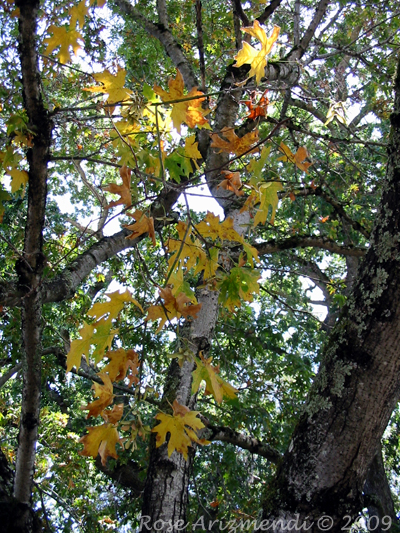 I always feel a little sad and reflective when summer ends and the days grow shorter. But I do love the subtle shift in the light especially in the early mornings, and the soft golden glow that wraps itself around our hearts reminding us, change is upon us.
quote for the day;
"It is time for us to kiss the earth again, it is time to let the leaves rain from the skies, let the rich life run to the roots again." – Robinson Jeffers
Here's a magical sound effect created by a group of people using their hands to make the sound of rain. Beautiful!
quote for the day;
"I grew up in this town, my poetry was born between the hill and the river, it took its voice from the rain, and like the timber, it steeped itself in the forests." – Pablo Neruda