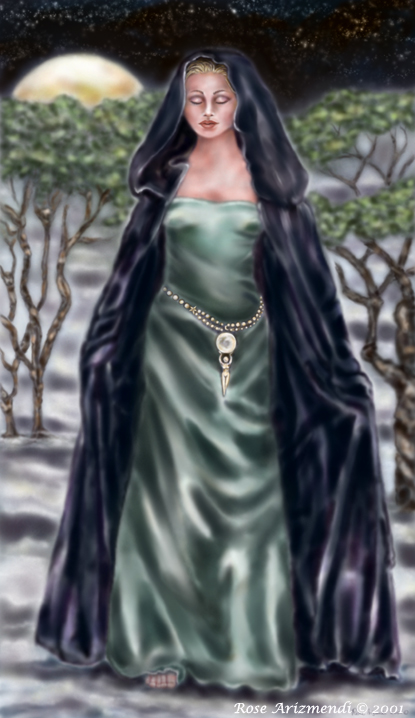 This weekend, Midsummer magic will be afoot as we celebrate Summer Solstice on June 21st. On Sunday the sun will reach the height of its strength, yet at the same moment the seed of darkness will be born as the nights grow longer and the days shorter. The celebration usually begins on Midsummer eve and continues throughout the next day.
The lady of Avalon was a wise woman and healer. In the twelfth-century the Welsh bard and prophet, Taliesin, describes her as a woman of great beauty who knew the uses of all plants in curing disease and illness. It was also said that she knew the art of magic and shape shifting.
Avalon is derived from the Welsh afal, which means apple, and Morgan le Fay it's queen.
Midsummer Meditation
Place your hands on an apple tree and meditate on the feel of the bark. Breathe deeply and visualize going into the tree. Experience her quiet soul. Let your inner heart speak to the tree. Pay attention to any thoughts or visions which may arise within your mind.
Become the tree, let the tree absorb you, and you absorb the tree. You are not alone, you and the tree become one, a mirror of each other, a part of everything in existence. When you have finished meditating, ground yourself and give thanks to the tree. – Rose Arizmendi – The Deep Magic of Gaia
Everyday Goddessing  is about sharing magical techniques and sacred wisdom with other beautiful Goddess women. I believe that within every woman there is a goddess, a wise woman, beautiful, creative, powerful, with a deep soul, and that everything we need and are looking for is already inside  each of us. – Rose Arizmendi