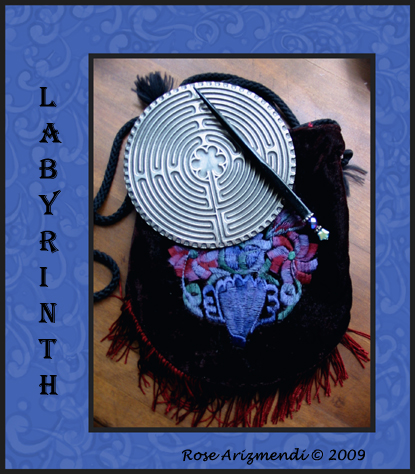 The finger labyrinth is a wonderful way to experience the healing and spiritual benefits of the labyrinth.
The portability and accessibility of these smaller versions of the labyrinth allow us to carry them wherever we go. Regardless of location, weather conditions, health or mobility issues.
I have used mine when traveling, waiting to see my doctor, and during those long stopovers between flights. They are wonderful, easy to carry and ready for use 24 hours a day.
Finger labyrinths have been around for centuries and some of these were said to be carved on rock walls and small stones. They were used to lead one to a deeper understanding of the self and a closer relationship with the divine.
Labyrinths can be used by everyone, regardless of their religious beliefs, traditions or background. They are a universal spiritual tool.
The three stages of the Labyrinth;
Releasing -Letting go of the details of your life. This is the act of releasing thoughts and distractions. A time to open the heart and quiet the mind.
Receiving – When you reach the center, stay there as long as you like. It is a place of meditation and prayer. Receive what is there for you to receive.
Returning – As you leave, following the same path out of the center as you came in, you enter the third stage, which is joining with the Divine, your Higher Power, or the healing forces at work in the world. Each time you walk the labyrinth you become more empowered to find and do the work you feel your soul reaching for.
I received my finger labyrinth as a gift several years ago and use it for relaxation and meditation. It was purchased from The Shop at Grace Cathedral in San Francisco.
I am also very fortunate to have a seven circuit labyrinth within walking distance of my home. I love it!
thought for the day;
" The great need of our time is for people to be connected to spirit; for people to be connected to a core of feeling in themselves that makes their lives vital and full of meaning, that makes life a mystery evermore to be uncovered." – Harold Stone – Sandplay