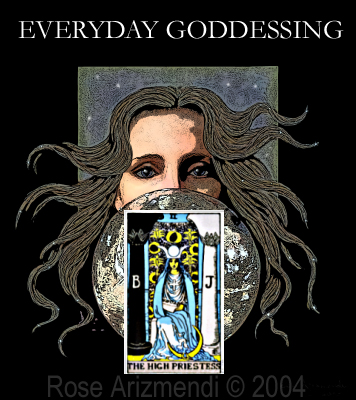 I did a reading for myself this morning and the three cards I picked were about love, living  & giving without  expectations, and the power or consequences of how our actions and choices may enhance someone's life today.
I use these weekly readings as a way to connect with my inner guidance and to get a feel for the lay of the land before blindly heading into my work week.
Based on the cards I picked, these are my goals for the week;
I will  make the time to call or visit with a friend.
Share hugs with my loved ones and tell those I care about how much I love them
Smile and say hello to strangers.
Speak words to inspire and encourage others to reach for their hopes and dreams.
Take moon baths, giggle with children, play, listen to old people and believe in magic.
And most importantly do this without any expectation what-so-ever.
Everyday Goddessing is about sharing magical techniques and sacred wisdom with other beautiful Goddess women. I believe that within every woman there is a goddess, a wise woman, beautiful, creative, powerful, with a deep soul, and that everything we need and are looking for is already inside  each of us. – Rose Arizmendi