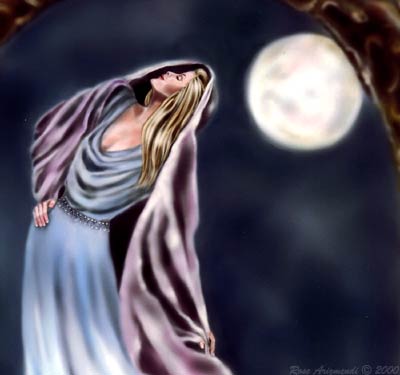 I stepped out onto the patio tonight and was very pleased to see the most enchanting sight. Just coming up over the hill, was the beautiful moon. Although the moon will not be completely full until tomorrow. I stood there gazing upon her, loving the way the moonlight spilled out over the landscape bathing everything in a soft glowing light.  Hello mother moon . . .
The full moon this month is known as Fruit Moon, and even though the days are slowly growing shorter and the nights longer there is something so magical and joyful about the beginning of the harvest season. I love the heady smell of freshly plowed earth and the golden fields of  grain that are now ready for the harvest and I especially love the fresh vegetables and delicious fruits at our local Farmer's Market.
The great wheel of change is moving forward into the autumn season, the great exhalation of the earth mother, a time of gratitude and celebration as we harvest the fruits of our labor. Celebrate and open your eyes to the magic of the season.
The Summer Day
Who made the world?
Who made the swan, and the black bear?
Who made the grasshopper?
This grasshopper, I mean-
the one who has flung herself out of the grass,
the one who is eating sugar out of my hand,
who is moving her jaws back and forth instead of up and down-
who is gazing around with her enormous and complicated eyes.
Now she lifts her pale forearms and thoroughly washes her face.
Now she snaps her wings open, and floats away.
I don't know exactly what a prayer is.
I do know how to pay attention, how to fall down
into the grass, how to kneel down in the grass,
how to be idle and blessed, how to stroll through the fields,
which is what I have been doing all day.
Tell me, what else should I have done?
Doesn't everything die at last, and too soon?
Tell me, what is it you plan to do
with your one wild and precious life?
~ Mary Oliver
"Everyday Goddessing  is about sharing magical techniques and sacred wisdom with other beautiful Goddess women. I believe that within every woman there is a goddess, a wise woman, beautiful, creative, powerful, with a deep soul, and that everything we need and are looking for is already inside  each of us." – Rose Arizmendi