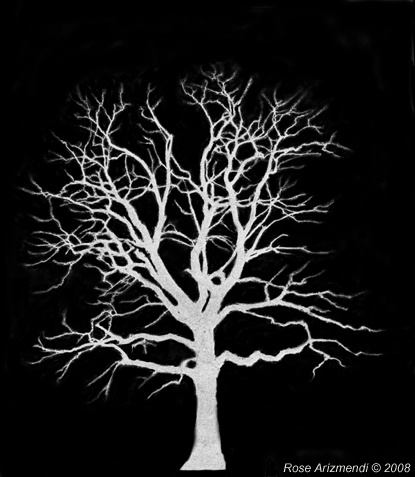 The Tree of Life
One very important symbol in almost nearly every culture is The Tree of Life, with its branches reaching into the sky, and the roots deep in the earth, it dwells in the three worlds, a link between, heaven, the earth and the under world.
In the Celtic tradition, trees were considered to be the ancestors of mankind, a connection to the world of the ancestors and spirits. These living entities were doorways into other worlds.
For the Celts the most sacred tree of all was the Oak tree, representing the axis mundi, the center of the world. The upper world of the tree represented the realm of the gods and goddesses, the middle world the realm of the living, and the underworld the realm of the ancestors.
Trees are believed to carry messages and blessings to the other realms, so why not select a favorite tree and give offerings for healing, love, peace, and prosperity.
The offerings may consist of  hanging prayer flags,  small strips of rice paper or colorful ribbons with Reiki symbols or prayers written on them. You can then hang these on the tree branches and your prayers will be carried on the wind out to benefit your friends, family and the world.
We have a lovely old oak tree in our back yard  and it is sanctuary and home to many small creatures so we place small gifts and offerings for the animals that live and nest in it's branches throughout the year. Offerings usually consists of bird food, slices of fruit, bread crumbs, and nuts for the squirrels.
Everyday Goddessing  is about sharing magical techniques and sacred wisdom with other beautiful Goddess women. I believe that within every woman there is a goddess, a wise woman, beautiful, creative, powerful, with a deep soul, and that everything we need and are looking for is already inside  each of us. – Rose Arizmendi