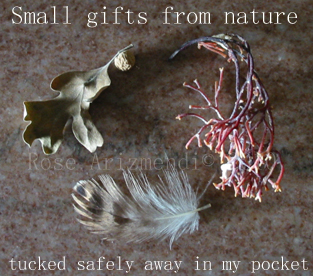 I found these small gifts tucked safely away in my coat pocket ~ Gift's from earth, sky and sea. A feather caught in my hair on one of my walks ~An Oak leaf with a tiny acorn from a favorite tree and a small treasure from my last visit to the ocean.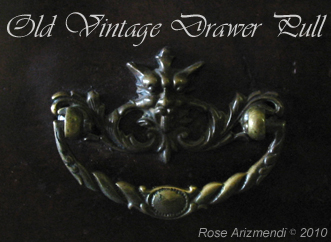 Later, as I was cleaning out an antique chest of drawers , I decided to try and find some information on the unusual drawer pulls. The only info I found was very limited. ~  Sigh . .
Aunt Margie purchased it at a garage sale in New York  in the early 40's. Apparently, it had been painted over with several layers of bright green paint. Imagine her surprise to find cherry wood underneath all that paint.
Over the years, this old chest has become like an old friend with it's worn edges and Victorian Green Man faces staring out from each drawer like little guardians protecting hidden treasures tucked away inside.  Such beauty & craftsmanship!
Autumn ~ So Peaceful ~ Mother Nature ~ Winding Down ~ A touch of frost in the air.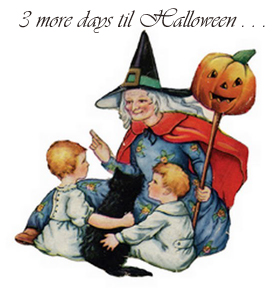 Before I go,  here is a sweet little video I found on You tube.
Autumn, and the lure of the season. A dance film working around poetry.
October Days

"Come said the wind to
the leaves one day,
Come o're the meadows
and we will play.
Put on your dresses
scarlet and gold,
For summer is gone
and the days grow cold." ~
A Children's Song of the 1880's
"Everyday Goddessing  is about sharing magical techniques and sacred wisdom with other beautiful Goddess women. I believe that within every woman there is a goddess, a wise woman, beautiful, creative, powerful, with a deep soul, and that everything we need and are looking for is already inside  each of us." – Rose Arizmendi