Gemstones for February are Agate, Bloodstone and Onyx.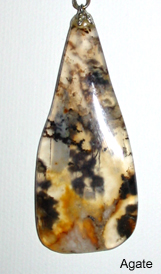 Agates – For centuries agates were known as powerful healing stones. The Native American Indians used them as power stones, and Hindu mystics believed that agates could help children to overcome their fears. Agates are said to enhance creativity which makes them an excellent stone for artists. Agates promote love, good luck, abundance, longevity, acceptance, courage, protection, balance, harmony, generosity, strength, and security. They also deepen our appreciation and our connection to nature.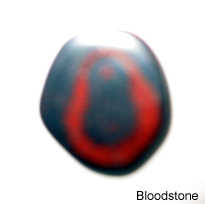 Bloodstone is an excellent healing stone and helps one with direct union with the creator through contemplation, meditation, and love. It may also be used to awaken and balance the first four chakras. It is said to promote emotional balance and clarity. The Bloodstone in the photo above is one of my personal healing stones. I found it years ago and was so excited to have found one with such unusual markings. It is very small which made it difficult to take a good photo.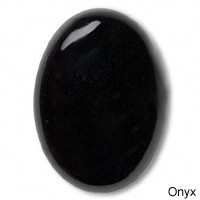 Onyx is a healing stone and a powerful stone of protection. Black onyx governs the root chakra and also helps drain off excessive energies. It is a wonderful grounding stone, valuable in helping us through difficult or confusing times in our lives, and also assists us in releasing past attachments to people, places, and things. It is used in India to ward off the evil eye.
All these stones belong to the Chalcedony family.