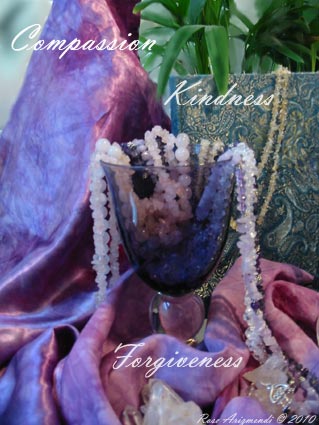 I love rose quartz . . . the soft shades of pink and the gentle way light plays across it's surface.
Rose Quartz ~ is a beautiful stone that soothes the eyes and spirit. Whether you like using it for the healing properties or just because you find them attractive ~  there is something about them that makes one feel peaceful.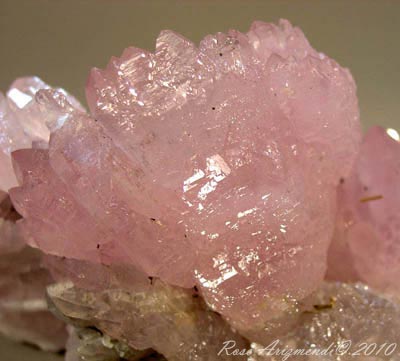 Rose Quartz, Kunzite and Watermelon-tourmaline are used to help balance and align the heart chakra, they are the heart chakra trinity stones that I prefer to use.  In order to bring the most beneficial energies to your body's energy system try wearing rose quartz near your heart meridian.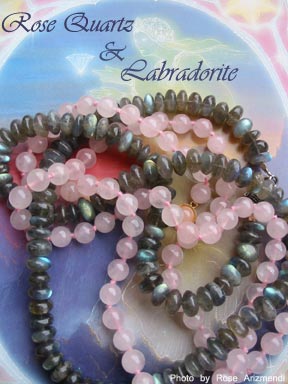 If you are a alternative healing practitioner you may want to also wear labradorite with the rose quartz  as it deflects unwanted energies from the aura and prevents energy leakage.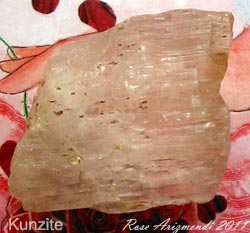 Kunzite ~ is a high level stone that strengthens the auras of spiritual healers and teachers and is one of the few stones, which can align the seven chakras within a twenty-four hour period.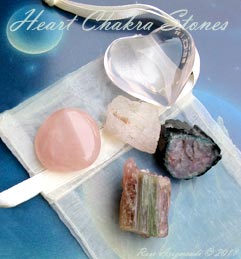 The heart chakra governs the heart, blood circulation, respiratory system, thymus gland as well as your shoulders, arms and hands. Anahata also governs compassion, kindness, tenderness and unconditional love for self and others.
I think of crystals and stones as another form of medicine from the earth and encourage people to purchase their own stones instead of having someone else select them. As in all things trust your heart and let your intuition guide you.
Crystals and stones when combined with other forms of spiritual and natural healing modalities give us another way of reconnecting with ourselves and mother earth.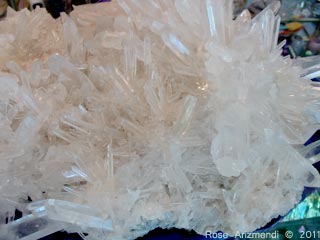 "Crystals grew inside rock like arithmetic flowers. They lengthened and spread, added plane to plane in an awed and perfect obedience to an absolute geometry that even stones – maybe only the stones understood." ~ Annie Dillard
"Everyday Goddessing  is about sharing magical techniques and sacred wisdom with other beautiful Goddess women. I believe that within every woman there is a goddess, a wise woman, beautiful, creative, powerful, with a deep soul, and that everything we need and are looking for is already inside  each of us." – Rose Arizmendi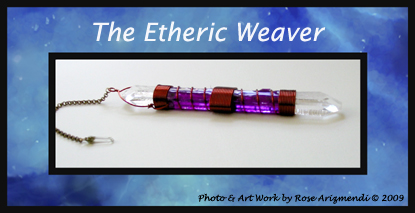 One of my favorite tools for personal healing is the Etheric Weaver. I purchased mine about nine years ago just after experiencing a full body Etheric Weaver treatment.
I have found the Etheric Weaver to be a wonderful addition to my Reiki practice and I use it often as part of my own personal healing regime .
However, I would like to also mention that you can do the same type of healing work with a pendulum or any other healing tool. The secret is to intend that your pendulum is a healing tool. It's that simple!
Etheric Weavers are crystals ranging from 3.5″ to 7.5″ in length with two small magnets on either side, circled in copper wire with a chain attached to the top. The clear quartz crystals are wrapped in colored theatrical-light gel. Each color creates a specific frequency that resonates with the body and realigns the energy field in the etheric layer.
It's very simple to use – simply hold it over anything or anyone, like a pendulum. For self healing you can suspend the Etheric Weaver about 3 to 6 inches above your left palm while holding the weaver with your right hand. Clear your mind and be very still. If the weaver starts to spin or move in any direction, hold it over that area until the movement stops.
The Etheric Weaver balances and aligns the whole meridian system, the chakras and heals blockages and rents in the etheric field.
Etheric weavers may also be used for personal healing, helping loved ones and friends, space clearings, pets, plants, long distance healing, meditation and awareness.
The Etheric Weavers are designed by H.H. Jetsun Gyalwa Jampa Gonpo and handcrafted by Western Buddhist monks and nuns.  Visit their website for more information.
Energize and stimulate your second Chakra with this beautiful video. The Sacral Chakra is located in the lower abdomen and it's Sanskrit name is Swadhishtana. Physical dysfunctions can manifest as lower back pain, pelvic pain, urinary problems and sciatica.
The spiritual lessons of the second Chakra have to do with creativity, manifesting your dreams, honoring relationships and learning to just "let go".
When this chakra is too open, we may find ourselves feeling everyone else's emotions or be over run by our own emotions. If the chakra is closed down, we may feel sluggish, out of touch with our emotions, lack luster and bored. We may also lack enthusiasm and passion in our lives.
Energize & Enjoy . . .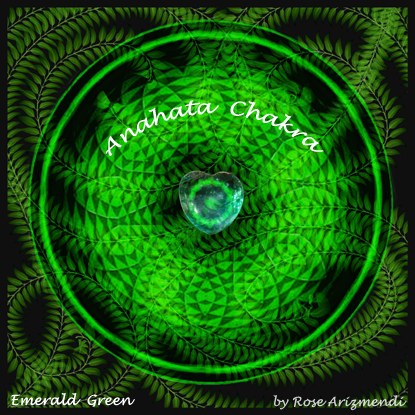 The emerald is a power stone, which helps to balance the physical, emotional and spiritual bodies, neutralizing any energy blockages in the fourth Chakra area.
I often use a raw emerald stone for opening or activating the Heart Chakra, and also use it to balance and protect the Heart Chakra.
It is an excellent stone for healers who may occasionally take on their clients issues, and a good choice for those in the 'healing profession', like Doctors, Nurses, Counselors, and Psychiatrists.
The emerald promotes serenity, healing, clarity, tranquility, harmony and love.
A friend of mine refers to it as "the stone of healing and hope". I rather like that!
"All healing is first a healing of the heart."
– Carl Townsend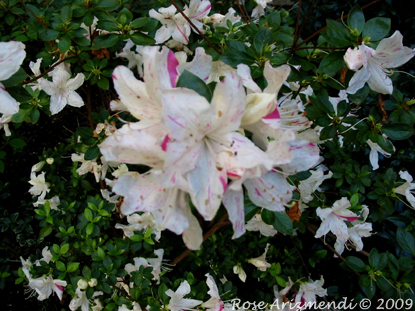 Springtime is the perfect time for clearing out and balancing the three lower chakras.The first, second & third chakras are those that relate to the physical realm in everyday life, and when balanced they help us flow and move through the everyday issues of life with more ease.
Without some kind of  balance in the lower chakras we may experience difficulties with manifesting and achieving our goals, concerns about physical survival, unbalanced emotions, lack of will power, feeling ungrounded, and an overly active mind.
Here are some ways to help balance the three lower chakras;
First Chakra – Located at the base of the spine the Muladhara Chakra, along with the foot chakras, ground us to the material plane.The issues related to this chakra concern physical security, career, home and safety, grounding, and our connection with the earth, and our physical body.
Gemstones to balance the first chakra are ruby, garnet, bloodstone, or red jasper, black tourmaline, obsidian, smoky quartz.
The Mantra related to this chakra is "Lam".
Affirmation – I have everything I need.
Aromatherapy Oils – Myrrh, patchouli or vetiver.
Chakra Balancing Strategies – Physical activity, walking, Hatha yoga, massage, and connecting with nature.
Second Chakra – Located just below the belly button, the Sacral Chakra relates to our emotions and sexuality and especially how we connect with others. In this chakra we may experience difficulties with creativity, sexuality, frustration, addictions, anger, low self esteem issues, and difficulties accepting change.
Gemstones to balance the second chakra are carnelian, orange calcite, fire opal or tangerine quartz.
The mantra related to this chakra is "Vam".
Affirmation – I embrace life.
Aromatherapy Oils – Ylang Ylang, sandalwood, clary sage, or fennel.
Chakra Balancing Strategies – Movement, Dancing, boundary work, inner child work, creativity exercises.
Third Chakra – located at the base of the rib cage in the upper abdomen, the Solar Plexus Chakra is the ego and power center and relates to will power, how we define ourselves, and emotional expression. Here we may experience difficulties defining our boundaries with others, an overly active mind, lack of will power, unbalanced emotions, control issues, and oversensitivity.
Gemstones to balance the third chakra are Amber, tiger's eye, citrine, and yellow topaz.
The mantra related to this chakra is "Ram".
Affirmation – I am at peace with myself and others and I release all unresolved emotions.
Aromatherapy Oils – Lavender, rosemary,marjoram, cedarwood, hyssop or bergamot.
Chakra Balancing Strategies – Deep relaxation, vigorous exercise, grounding exercises, psychotherapy, psychcosynthesis journal work, self esteem building exercises and activities.