Posted by
Rose2
on Jul 13th, 2009 in
Chakras
,
Photography
|
0 comments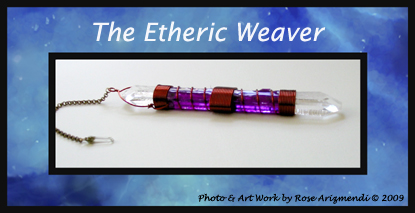 One of my favorite tools for personal healing is the Etheric Weaver. I purchased mine about nine years ago just after experiencing a full body Etheric Weaver treatment.
I have found the Etheric Weaver to be a wonderful addition to my Reiki practice and I use it often as part of my own personal healing regime .
However, I would like to also mention that you can do the same type of healing work with a pendulum or any other healing tool. The secret is to intend that your pendulum is a healing tool. It's that simple!
Etheric Weavers are crystals ranging from 3.5″ to 7.5″ in length with two small magnets on either side, circled in copper wire with a chain attached to the top. The clear quartz crystals are wrapped in colored theatrical-light gel. Each color creates a specific frequency that resonates with the body and realigns the energy field in the etheric layer.
It's very simple to use – simply hold it over anything or anyone, like a pendulum. For self healing you can suspend the Etheric Weaver about 3 to 6 inches above your left palm while holding the weaver with your right hand. Clear your mind and be very still. If the weaver starts to spin or move in any direction, hold it over that area until the movement stops.
The Etheric Weaver balances and aligns the whole meridian system, the chakras and heals blockages and rents in the etheric field.
Etheric weavers may also be used for personal healing, helping loved ones and friends, space clearings, pets, plants, long distance healing, meditation and awareness.
The Etheric Weavers are designed by H.H. Jetsun Gyalwa Jampa Gonpo and handcrafted by Western Buddhist monks and nuns.  Visit their website for more information.